- GET OUT OF AFRICA WHITE FARMERS -
blanke Suid Afrikaner wat opgegroei het in hier die eens pragtige land.
Ons leef in vrees want daar vind soveel wrede aanvalle plaas op blanke persone, dit is te erg vir woorde.
Families word uitgewis op mees aaklige wyses.
Ongelukkig kyk sommige regerings anderweg en is almal nie bewus wat regtig gebeur nie!!
These farmers are all paying the price of their colonists forefathers.
Julius Malema talks about killing White People
South Africa GENOCIDE! THE FORGOTTEN White farm Murders



Pictures
more and more farmworkers and Farmers
who were murdered in South Africa

No one is safe , some of the people mentioned in this tribute were blind,
the oldest was an old lady of 93, the youngest a baby of 6 months.
2017
Description: Malema interviews a candidate judge Van Der Westhuizen who struggles to answer a simple question about apartheid.
Massamoord in Zuid Afrika van bijna half miljoen mensen

.
445.835 moorden werden geregistreerd in Zuid Afrika tussen april 1994 en maart 2016, vandaar het half miljoen.
Bijna een half miljoen mensen zijn door moord omgekomen in Zuid Afrika sinds de afschaffing van de Apartheid in 1994.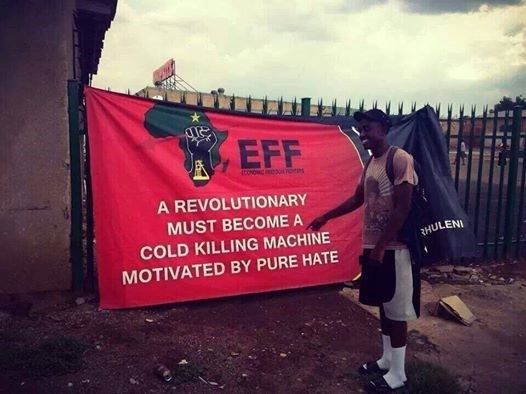 De gevestigde blanke orde was "bloedeloos" gewisseld voor het zwarte ANC regime.
Maar de Regenboognatie wist nog niet welk bloedig kado er stond te wachten. Naast het ANC ontstond ook het EFF van Julius Malema.
The institute of race relations verklaard dat de moord crises in Zuid Afrika zo ernstig is dat Zuid Afrikanen een groter risico lopen om vermoord te worden dan mensen in een door terroristen geplaagd land als Irak of Syrië.

Wordt het niet eens tijd dat LINKS zich gaat zitten doodschamen en de VN troepen orde op zaken gaan stellen in Zuid Afrika?
Malema van de ANC boom eist alle land van de blanken en zegt "we wont kill them yet".

De cijfers zijn vrijgegeven door The Institute of Race Relations in Zuid Afrika, in het South Africa Srurvey Publication.
Nu zijn de meeste moorden "gewoon" huis-tuin en keuken moorden" zoals een detective het eens beschreef. Die variëren van moord met allerlei wapens ten gevolge van:
drank- drugsmisbruik;

vreemdgaan;

kindermoorden, en noem maar op.
Een speciale groep van die moorden zijn de zogenaamde Plaasmoorde, dat zijn moorden op blanke boeren. Opgestookt door jarenlange politieke hate speech en zingen van liedjes door het ANC van Mandela en vrienden als "KIll de Boer (blanken)".
Die roof-overvallen en moorden zijn zo gruwelijk dat het bijna met geen pen te beschrijven is. Gezinnen worden thuis opgewacht, vastgebonden, gemarteld (soms dagen) en daarna gruwelijk vermoord. Voor details kunt u Googlen op Plaasmoorde, wel hartmedicatie innemen.
Er is een heel mooi lied gezongen in het Afrikaans waarbij de herinnering aan een verloren geliefde wordt herdacht, Hoor Jy My Stem.


Boek van Martin Bosma, Minderheid in eigen land over Zuid Afrika